Grant Rollinson Sensei - Profile

Grant began karate in 1983 shortly after his arrival in Perth from Christchurch, New Zealand. Having trained and competed in a variety of team sports, such as football, hockey, basketball and baseball in his earlier youth, Grant chose karate as he wanted to train in a sport which develops whole-of-body skills, strength and agility, and which he could continue to train in and learn from for the rest of his life. He was also keen to develop self-defense skills.


Grant first trained as a member of Shotokan Karate International (Australia), under the leadership of Sensei Hirokazu Kanazawa. In 1988 Grant began instructing in this style at his own club.

Grant then joined the World Shotokan Karate-do Federation in 1998, where he joined Sensei Howard Mutton to train under Sensei Hitoshi Kasuya, the chief instructor. Sensei Kasuya remains a great inspiration to Grant to this day because of his outstanding abilities, and the way he combines traditional karate with modern day thinking.

In the years since then Grant has developed two clubs, and trains a wide range of karate students, from beginners to advanced black belts. Grant enjoys teaching karate, as he achieves satisfaction from seeing his students improve their self-confidence and physical abilities. He takes great pride in the knowledge that he developed the skills of some of his assistant instructors from their earliest beginnings. He sees his role as an instructor as important because many of the skills they learn in karate can be great assets when applied to every day life. Grant enjoys challenging his mind and body. He most enjoys karate when he is training hard.

Dan rankings:
Shodan (1st Dan) - Sensei Kanazawa SKI 1987
Nidan (2nd Dan) - Sensei Kanazawa SKI 1989
Sandan (3rd Dan) – Sensei Kasuya WSKF 1999
Yondan (4th Dan) – Sensei Kasuya WSKF 2006
Godan (5th Dan) – Sensei Kasuya WSKF 2011

Other Accreditations:
WSKF World Championships 2007, 2009, 2013 - Judge, Japan (Representing Australia)

Current position:
Grant is the principal instructor of the Cannington, Doubleview, Kingsley and Swan Valley dojos.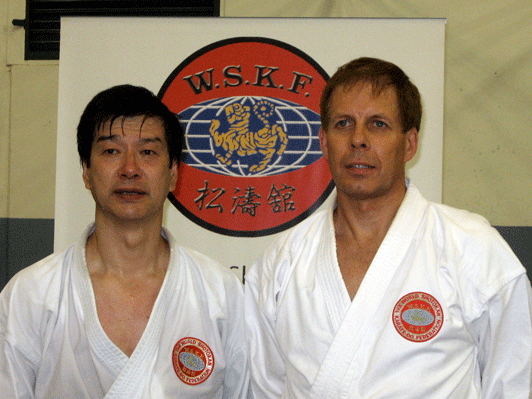 Sensei Hitoshi Kasuya (WSKF Chief instructor) and Sensei Grant Rollinson (Head Instructor of WSKF Australia) after his Perth seminar.